1. JOHN ZANDIG 
Zandig vs Joey Janela – Roof Bump
Founder of the CZW (Combat Zone Wrestling) John Morisson popularly known as John Zandig is a coveted member of the combat Zone Wrestling franchise. He was a wrestling trainer in his early pursuit of a career in professional wrestling.
John Zandig created CZW because of his love for hardcore wrestling allowing the use of dangerous items like barbed wires, fluorescent tubes, and some other mind-boggling items. John was so dedicated to his craft that he was once suspended by meat hooks. Ouch!!!.
2. NICK GAGE 
Nicholas William Wilson know to the CZW as Nick Gage is one of the scariest men on the CZW roster, Nick has been involved in several Tournament of Deathmatches across several promotions.
He sometimes seems to revel in the hurt that he inflicts and receives in those kinds of matches, such is his brutal nature that he almost cost an independent promotion advertisement rights.
3. DJ HYDE
Hyde throwing "The Bulldozer" Matt Tremont in a CZW event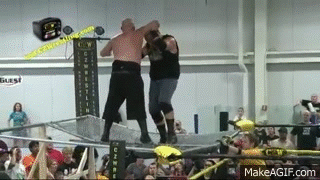 The current Owner of the CZW, David John Markland took over Combat Zone Wrestling in 2009 where he has claimed the CZW Iron man championship 3 times while also claiming victory at the Tournament of Death VIII.
Dj Hyde continues to wrestle across several independent promotions like the ECWA and Big Japan wrestling. 
4. WIFEBEATER
Wifebeater (Mathew Prince) joined and made his CZW debut in August, 1999. Wifebeater debuted in the "Pyramid of Hell" where he took on Trent Acid.
That debt garnered quite the reaction and in September of 1999 Wifebeater took on Nick Gage in a match for the World Heavyweight Title and defeated Nick Gage, He would then hold on to the title until December 1999 where he lost it to John Zandig. 
5. SABIAN/BLK JEEZ
#NewProfilePic pic.twitter.com/vkrk1Cg2OH

— "The Church's Money" (@Jeez215) September 3, 2021
Darnell Kitrell (Sabian) had a short stint with CZW, He made his debut in a match against Sean Bishop which he won.
Sabian decided to join Ruckus to form Blackout, Blackout would have to square off against Derek Frazier and Chris Cash for a chance at the World Tag Team champions. 
Blackout would emerge victorious and would go on to defeat H8 to become the New World Tag Team Champions. 
6. AR FOX
🌪Tornado Kick🌪 pic.twitter.com/WkyRIQ5ejK

— AR FOX (@ARealFoxx) September 17, 2021
When it comes to technical elegance or raw ability AR FOX oozed it, James Ballester better known as AR FOX joined CZW in February 2010 where he was involved in a three-way match against Aaron Arbo and Unbreakable Andy, although the match was won by Aaron Arbo. 
Fox would grow into the CZW as he defeated several wrestlers like Alex Colon, Façade, Ricochet, Ruckus and a few others to become the number one contender although he failed in his pursuit against Adam Cole.
7. RUCKUS 
August 14, 2021
Ruckus became a member of the Combat Zone Wrestlers after he was scouted by John Zandig (Founder of the CZW) while he was performing alongside Hurricane Kid in the powerhouse wrestling circuit who was also signed to CZW.
Ruckus was a contrast from your everyday high flyers, when he joined the CZW he weighed in at a staggering 300lbs but later dropped 75 pounds.
Ruckus won his first piece of silverware in December 2001 just months after joining the promotion when he became the CZW Junior heavyweight champion.
He would team up with Sonjay Dutt in several matches but turned on him when it seemed Sonjay was getting all the attention. 
8. SONJAY DUTT
Happy Canada Day!

For years I spent Canada Day in Brampton for Tigerfest! Great memories! pic.twitter.com/WmrvDL62vi

— SONJAY (@sonjaydutterson) July 1, 2021
Sonjay Dutt is one of the most successful CZW wrestlers of all time.
Sonjay claimed the Best of the Best title then got inducted into the CZW Hall of Fame. Sonjay teamed up with Ruckus to take on the then Tag-team Champions with devastating effects Sonjay and Ruckus won the Tag Team championships and like most friendships' jealousy began to grow.
Ruckus attacked Sonjay leading to a CZW championship opportunity which ended with Sonjay retaining his CZW junior championship belt. 
9. ALEX COLON 
A top entertainer with smash-mouth offense and intelligence to put off his opponents, Alex Colon has shown top performances with seamless transitions in his matches especially through his run in the Tournament of Survival 6.
Alex colon has elevated himself to elite performer status with his ability to give amazing eye-catching and attention-grabbing matches like his deathmatch with Danny Havoc and his classic against Jun Kasai.
Alex Colon is definitely a future CZW hall of famer if he continues on his current trajectory. 
10. MATT TREMONT 
The KING of the deathmatches – @TremontH2O returns to take on @onitafire123 on HALLOWEEN for @H2OWRESTLING. Check out his run in ISDub on @indiewrestling today!https://t.co/XpwAXpRHA2 pic.twitter.com/FxWw2Wuy6b

— Interspecies Wrestling (@ISDub) September 16, 2021
Matt Tremont made his professional CZW debut at the Prelude to violence show against Pinkie Sanchez with great success, claiming victory on the night in a tournament of death X ultraviolent rules match.
Tremont would then have several feuds with Danny Havoc, Dj Hyde in Ultraviolent rules matches where he would be defeated by Danny Havoc and almost fired by the Owner of CZW (Dj Hyde). 
Dj Hyde cut a promo about Matt Tremont not being reinstated after he dished out a headshot to Solo but he later got a chance to win his way back through a match where he teamed up with New jack against Joe Gacy and Ron Mathins, with Tremont winning the match with a Death valley driver through several panes of glass and a stage set-up.